Why Charleston is an Excellent Place to Learn to Surf
Beautiful beaches and manageable waves make Charleston an excellent place to learn to surf. Isla Surf School's experienced instructors give guests the knowledge and practical tips needed to ride waves the first time out.


Surf Lesson Location and Availability
Charleston Surf Lessons is located at the tent on the beach just behind the Tides Hotel (1 Center Street) on Folly Beach. The instructors offer lessons from 8:30 a.m. until 4:30 p.m. seven days a week. Guests can walk up to the tent to inquire about availability, but lessons are first come, first served, so it is best to schedule your surf lesson ahead of time if possible.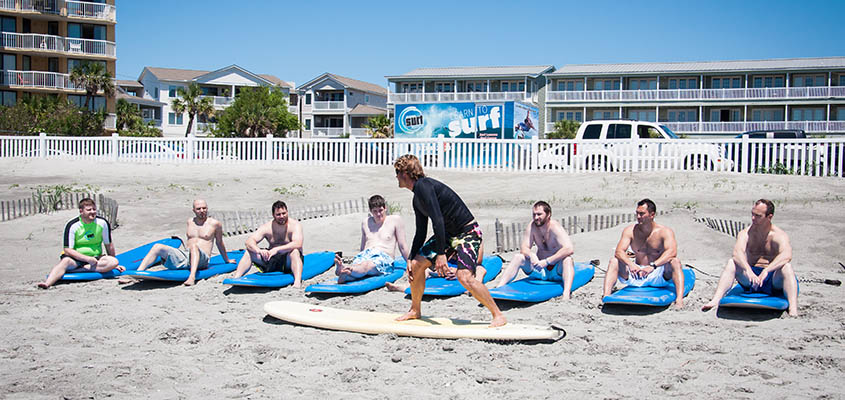 Group Surf Lessons
• Group Lessons - $35 / per person (4 people or more)
Book a group surf lesson now. Discount Code: travelingink3


Private Surf Lessons
• Private Lesson - $50 / per person (1 on 1 Instruction)
• Semi-Private Lesson - $40 / per person (Up to 3 people)
Book a private surf lesson now. Discount Code: travelingink3

What Your Surf Lesson Includes
All lessons include 10-15 minutes of beach orientation and instruction. During this time, guests will learn about ocean awareness and safety, surfing etiquette, equipment, paddling, and a 3-Step "Pop Up" technique.

Following beach orientation, guests will enjoy one hour of water time riding the waves. While out on the water, folks will learn how to apply surfing techniques, sit on the surfboard correctly, look for and find that perfect wave, and ride while keeping themselves and others safe on the waves.

For each guest participating in the lesson, a surfboard and leash will be provided. Charleston Surf Lessons will also provide rashguards for extra sun and skin protection out on the water for guests who would like them.


Things You'll Want to Bring to the Beach
Swimsuit and sunscreen. Also recommended are a bottle of water, towel, sandals, and a change of clothes in case you want to pop into BLU restaurant or one of the other fine establishments on Folly Beach.


source: Charleston Surf Lessons