Take a Carriage Tour of Charleston
If a visitor had to choose one tour to take in the City of Charleston, a carriage tour with Palmetto Carriage Works is what I'd recommend. Carriage tours give visitors an excellent overview of the city's beauty, history, and charm.


The one hour residential tour covers about 25-30 blocks of the downtown historic district. Guests will see public buildings, churches, mansions, and local botany as they navigate the streets of Charleston, and a tour guide who is licensed with the city will give them the history and background of the sights as they go.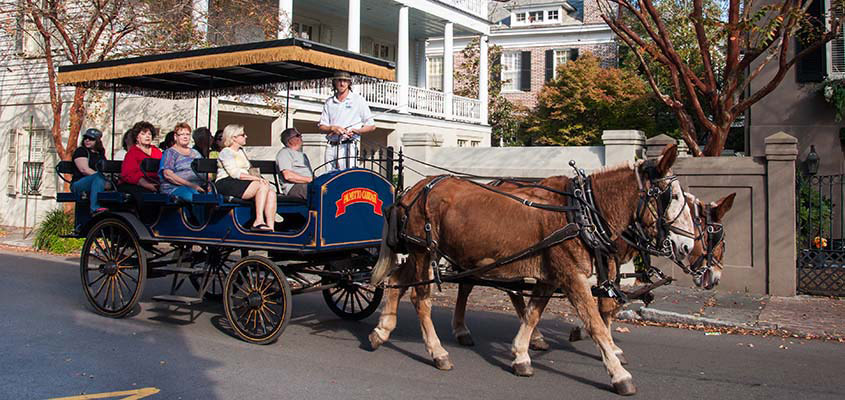 Special Pricing for Traveling Ink Guests - Use Our Coupon Code
Palmetto Carriage Works has offered discount pricing to Traveling Ink guests. Take advantage of a reduced price on all adult tickets purchased. Print off our coupon and bring it with you to receive the discounted price in person. Click here for your carriage tour coupon.

Rather secure your tickets now? Buy your tickets online and use our discount code at checkout!
Ready to go? BOOK ONLINE HERE. Discount Code: travelingink


Best Time to Take a Carriage Tour
The full operating hours of the tours are below, but I have a few tips on the best time to take your tour. First, I suggest visitors take the tour in the morning if possible. Typically tours are not as busy during morning and lunch-time hours, so guests often have a shorter wait time. Morning hours are also a bit more pleasant during the hotter months in Charleston.


Second, I recommend guests take the carriage tour at the beginning of their time in Charleston. The tour is a great overview of the downtown historic district. As such, people often pass points of interest (a park, a church, a house tour) that they'd like to go back and spend more time seeing. The guides also give great advice about other things to do and see in town. It's helpful to get all that information at the beginning of a trip instead of when a visitor's time in Charleston is about to end.


Tour Hours of Operation
Residential tours run about every 20 minutes from 9:00 a.m. until 4:00 p.m. E.S.T. (hours are extended to 5:00 p.m. during Daylight Savings Time). Guests are able to join tours on a first come, first served basis. During busier times of year (March - October), Palmetto may run evening tours. The decision to operate late afternoon or evening tours will be at the manager's discretion according to interest.


Things You May Want to Bring
A camera, sunglasses, and a jacket or sweater in cooler months. Guests are also permitted to bring snacks and nonalcoholic beverages on the tour with them. Beverages and snacks may also be purchased onsite at the Palmetto Barn shop.


Why Palmetto Carriage?
There are five different carriage companys in Charleston, but there are a number of reasons I point guests to Palmetto Carriage Works. Palmetto is the oldest and largest carriage company in the city and their experience and size give them an edge. The Palmetto Carriage herd is made up of approximately 27 mules and 13 horses. Because they have a large number of animals as well as the largest staff in the industry, they can run more tours in a day than other companies. More tours typically mean more options and shorter wait times for guests.


Palmetto is the only carriage company with a ramp and loading dock, increasing the ease and safety of boarding. Passengers with limited mobility should request dock loading for an easier boarding process.


Palmetto also has an excellent record in regard to animal care, guest service, and tour guide quality. The barn is always open to the public via walk-in visit or webcam, and there has never been a heat related incident with any animal under Palmetto's system of care.


If a visitor has a need, please ask. The staff will do its best to accomodate guests whenever possible. There are good guides in each company in town, but collectively, Palmetto has the best in my opinion. Visitors don't have to take my word for it. Southern Living Magazine, CNN Travel, and the Charleston City Paper have all sung the praises of Palmetto Carriage Works.


While You're in the Downtown Charleston Area
Palmetto Carriage Works is located just one block north of the open air market, full of souvenir shopping options. My tip for the best thing to buy as a memento? I'd recommend a sweet grass basket, which can only be found in the Carolina Lowcountry and the west coast of Africa. The price of these baskets is easily justifiable by their history, beauty, and the time required to make them. There are a number of great house museums, harbor tours, and the South Carolina Aquarium also located downtown.


Support Charleston's Horse Carriages
Charleston's carriage company's go out of their way to provide amazing care and both work and living environments for their horses and mules. These are some of the best cared for and most loved animals you will find anywhere! That said, they can also use your support. Click here to support Charleston's horse carriages.


source: Palmetto Carriage Works
Last modified on
Wednesday, 15 November 2017 12:50