When I checked the Bald Head Island Limited site for things to do on the island, one of the first things that caught my eye was a sailing excursion with Riverside Adventure Company & Sail Shop. Their website advertised two hour Funsails aboard their 26' J80 Sailboats, and I envisioned a leisurely sail taking in the scenery and the sunshine while our guide sailed along off Bald Head Island. What I didn't expect was getting the chance to sail the boat myself, and arguably, that wasn't even the highlight of the outing.


Harper and Plunkett Peterson started their Bald Head Island business adventure back in 1983 with a bicycle rental program. They now own a business that rents golf carts, kayaks, and beach supplies in addition to bikes, a retail store, and a sail shop that does sailing lessons and tours as well as surfing lessons. Their most recent project was opening Delphina Cantina restaurant on the island. The Traveling Ink crew stopped in for lunch one day, and there was a lot of raving about the fish tacos. The couple met on Bald Head Island and have been there for decades now. When Harper told me he'd be taking us out on the sailboat himself, I felt like we were going to be in very good hands.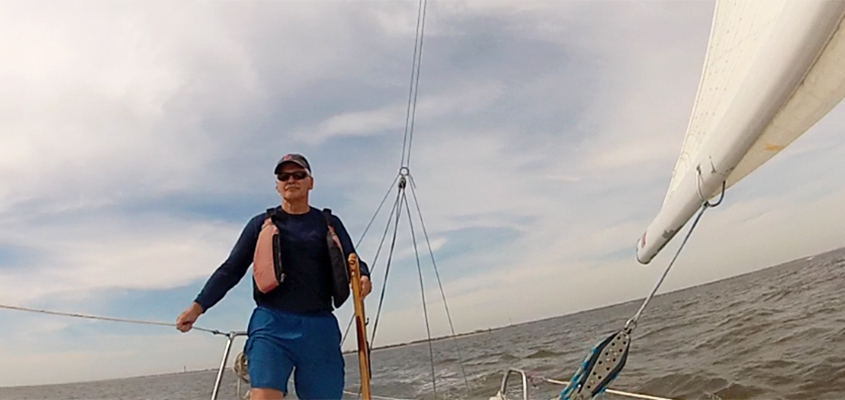 Harper Peterson sails off Bald Head Island.


There were six of us all total (more than could go sailing on one boat at a time), so Harper arranged for us to have some kayak rentals as well. The plan was for half of the group to go sailing, while the other half kayaked. Then we'd swap places. I have to mention as a testament to the hospitality of the company and the island in general that, due to a transportation issue, we were late arriving for our scheduled time. Granted, it was the slower season, but when we called to apologize for the delay, the team at Riverside Adventure Co. not only were incredibly understanding, they offered to come pick us up (rescue us in essence) if we ended up being stranded. Thankfully it didn't come to that, but we were incredibly grateful for the offer and the kindness.


Upon arrival, Clay Martin, who heads up operations for The Sail Shop, got half our team situated in kayaks and launched into the water in the shadow of one of the best views of Old Baldy Lighthouse imaginable. The weather couldn't have been more perfect for kayaking. The sun was out. The air was warm, and there was a gentle breeze that made paddling about as optimal as possible. Clay also helped us with some general directions and tips about the currents, and off we went exploring.
Kayaking in the tidal creeks at Bald Head Island.


Myself and the other half of the Traveling Ink team headed for the docks and hopped aboard one of the sailboats with Harper. I sat in between Samuel Kennedy and Thomas Terrell, and was very happy to be sitting in the middle as Harper was giving the guys instructions on things to do before we even left the harbor. I thought I had picked the "leisurely seat" and would be watching the guys do most of the work. I was fine with that not because I was feeling lazy, but because I had no idea what I was doing. I've been on sail boats a number of times and love them, but the basic extent of my knowledge was to lean towards the high side of the boat and duck when the boom caming flying past.


I got out my camera and began to shoot some footage of us sailing out of the harbor. I thought since I was just documenting our adventure, I'd bring up a bit of proud trivia regarding my family and sailing. You see, even though I don't know what I'm doing on a sailboat, I do have some family bragging rights when it comes to being on the water.
My uncle, Jay Brown, is the Tom Selleck look alike with the awesome mustache in the back row.


In 1983, my uncle, Jay Brown, was Star Class North American Sailing Champion. In 1987, when I was still in elementary school, the New York Times wrote about him after he and ten other sailors won the America's Cup with legendary skipper, Dennis Conner. He was sewerman (or pitman) aboard the winning boat, the Stars & Stripes, off Fremantle, Austrailia. That's the basic equivalent to being on a winning Superbowl team in the world of sailing, and I'm always excited to get to share that information with anyone who really sails, because I know they will appreciate it. But before I could get the introductory sentence to my story out of my mouth, Harper interrupted me asking if that meant I wanted to take the tiller. I was surprised, but I wasn't going to pass up the opportunity.


"I mean, I could," I managed, as I handed the camera to Samuel and manuevered around Thomas.


I'd been on the tiller for about twenty seconds when Harper announced we were going to come about. The look on my face was priceless: shock and terror. I've been doing this for less than thirty seconds and you want me to turn the boat?? "I thought you had experience," Thomas said.


"I said my family had experience," I responded quickly. Big difference.


I followed Harper's instructions and managed to tack a few times without tipping the boat over or throwing anyone into the drink. Just about that time, we spotted a dolphin off the Leeward side of the boat. We turned to try and find it on the horizon line again and realized it wasn't one dolphin but quite a few. There was a small group of them feeding about 200 feet away. We lost no time turning toward them and spent the remainder of our time on the water admiring them off either side of the boat. I let Harper take back the steering for the trickier maneuvering and was able to grab a few shots of the fins popping out of the water.


The dolphins, along with some of our sailing adventure on a whole, were captured on video, and I put a quick synopsis of our trip together. I'm still not a real sailor by any means, but at least I can pretend when I watch the video. The lesson? When someone gives you the chance to drive the boat, drive the boat (and trust that they care enough about their vessel that they'll give you enough instruction to manage things okay). I'd like to thank both Clay and Harper for giving us an amazing afternoon on the water, and would certainly recommend Riverside Adventure Company and Sail Shop to anyone looking for fun on Bald Head Island.


Read Traveling Ink's other Blogs about Bald Head:
• Bald Head Island Eco Tour
• Bald Head Island...Do We Really Have to Leave?


sources: BHI Coastal and Living Guide, The New York Times, Riverside Adventure Company & Sail Shop
Audra Gibson is a Christian, photographer, surfer, and a lover of teriyaki steak bites. She enjoys live music, doesn't like to be cold, and she's a bit of a cheese snob. Traveling Ink was her little brain child and she's very happy that you're here. She'd be oh so happy to recommend her favorite tours and attractions in town, help you with a team building event, or organize a day (or week) of fun for you and your group.
Website: www.audragibson.com