I got a call from my mother today asking what kind of potatoes I wanted with Thanksgiving dinner and whether I wanted green bean casserole on the menu. Does anyone else get calls like this? It was a good indicator that the holiday season is officially upon us.
We have a number of annual holiday events in Charleston that are wonderful. The Holiday Parade of Boats, Reindeer Run, Christmas Market in Marion Square, Christmas parades, and Children's Village at Magnolia Plantation are all unique holiday offerings that are loved by visitors to the city and locals alike. But there is one holiday event that I consistently see receive more loyalty and love from locals each year, and that is the Holiday Festival of Lights at James Island County Park.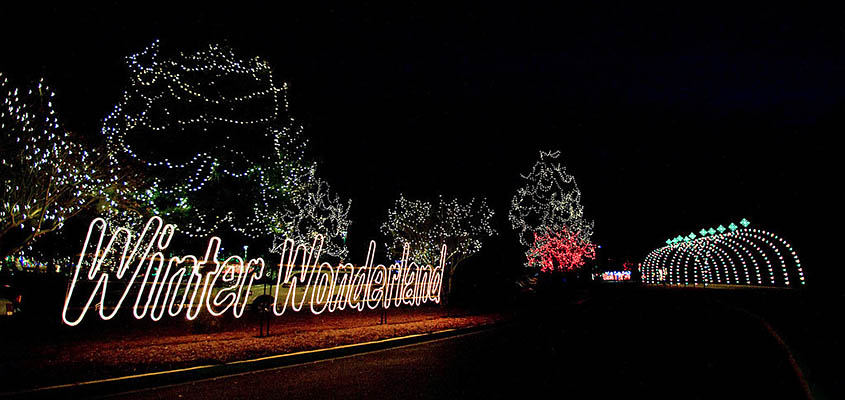 I've taken my family. I've been with my friends. We've driven in cars, trucks, and vans (at times possibly exceding the passenger limit for some vehicles). One year we even stopped by a local barn, threw a few hay bales in the back of a friend's truck, and went through the light display cozied under blankets with mugs of hot chocolate. Sometimes we have dinner there. Sometimes we eat at a restaurant or have a potluck at someone's house beforhand. The one thing that doesn't change? We always go. And I hear this from locals across the board. It's become a tradition people just don't skip.
What started in 1989 as a smaller light display has grown with popularity each year into a three mile drive filled with over two million lights. There's a patriotic light display section, a section filled with toys, dinosaurs, sealife, and even extraterrestrials. Tune your radio to AM 1630 as you drive, for your favorite Christmas tunes. Once you complete the light display loop (which you are welcome to drive as many times as you'd like), people are welcome to park and explore a Winter Wonderland set-up within the light display loop.
The Santa's Village and Winter Wonderland section of the festival include a sweet shoppe, Victorian Carousel, multiple fire pits for marshmallow roasting, photos with Santa, holiday train ride, giant sand sculpture, food and beverage vendors, Christmas shopping, and numerous more light displays. You get a fun light show, the chance to make S'mores, and an opportunity to get some Christmas shopping done and take pictures with Santa all in one outing.
So what makes this event a consistent favorite year after year? The festival has a number of things in it's favor. First, the festival adds new light displays every year, so there is always something new to see. Second, the event is open every night from November 10th to January 1st. That means the crowds are spread out, and, even if there are one or two days with poor weather, folks can take a raincheck and go the next night or weekend. The span of time also helps with parking woes. Parking at James Island County park is also easier to find (and complimentary with admission) compared to a number of holiday events where people may struggle to find easy parking downtown. The event is appropriate for all ages, so nobody in your group is left out or bored. And finally, folks have a good time year after year when they attend, so it's not hard to convince people to go again.
So, what if you are a visitor from out of town who also wants to join in on the fun? We don't blame you. If you have access to a vehicle while you are in town, just plug James Island County Park into your GPS and head out to see the lights during festival hours. If you are staying downtown without the benefit of transportation, one of our travel partners offers reasonable tours out to the Festival of Lights departing from the downtown Visitor's Center bus shed on Meeting Street. They will even pick-up and drop-off at a number of hotels downtown if you call ahead to request a pick-up location other than the Visitor's Center. Click here for more information on Festival of Lights transportation or click below to check availability and book your seat.

For a discount, use coupon code: travelingink10
Whether you're a visitor or a local, we hope you make it out to one of Charleston's favorite holiday events this year! Happy Holidays!
Audra Gibson is a Christian, photographer, surfer, and a lover of teriyaki steak bites. She enjoys live music, doesn't like to be cold, and she's a bit of a cheese snob. Traveling Ink was her little brain child and she's very happy that you're here. She'd be oh so happy to recommend her favorite tours and attractions in town, help you with a team building event, or organize a day (or week) of fun for you and your group.
Website: www.audragibson.com