When I was a kid, I lived about two hours outside of Orlando, which meant my family made a trip to Sea World occasionally. One of the big shows at the park starred Shamu, an orca, in the ocean tank. One quickly learned that there was a "splash zone" at this show, and if you didn't want to get wet, you stayed out of the first five rows. This weekend at the Southeastern Wildlife Expo (SEWE), I learned there is also a splash zone for Dock Dogs competitions.


I have attended SEWE for a number of years, but for one reason or another had not gotten the chance to watch the Dock Dogs competitions. I was house sitting this weekend when SEWE rolled around, so I was determined to make this event for dog owners (even if I was just pup-sitting), a priority. I loaded up the car with the little King Charles Cavalier, doggy treats, leash, water, and various other dog "necessities" and made my way to Brittlebank Park. I don't know that I've ever seen so many dogs in one place. The park was packed and the two-tank dock dog competition was the big draw of the venue.


For those that are not familiar, a variety of dogs different breeds and sizes enter the contest where they are prompted by their owner with a command or the throw of a toy, duck retrieval decoy, or ball to take a running leap off the edge of a platform into a giant tank of water. The tank is lined with a larger than life measuring tape and the dogs are looking for the best distance or height they can get according to their category. The little dogs weren't quite as "threatening" when it came to making doggy cannonballs, but when the medium and larger sized dogs came up to bat, everyone knew to take a step or two back from the edge of the tank. Otherwise, they may become the victim of a doggy tidal wave.


Many of the participants seemed to be weekend warriors when it came to practicing the art of the dock leap, but it was clear that a number of dogs and their owners had practiced a good bit and had this down to a science. It was quite impressive to see the distance many of these dogs managed to fly. Most of them certainly performed a better long jump than most of us humans could manage. And the ones who weren't so sure of themselves always got a nice cheer of encouragement from the crowd. If they were willing to get wet, they had the crowd at Brittlebank's support.


The jumping competitions, though popular, are only a small portion of what has grown to be a big event. The Southeastern Wildlife Expo celebrates wildlife in all forms, and the artists who make their living featuring those subjects. It is the biggest event of it's kind in the southeast and spans three days (longer if one includes the VIP events).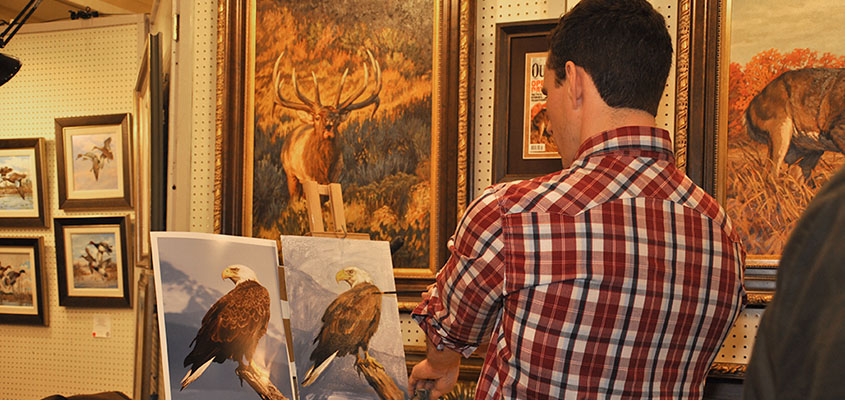 Various artists including painters, photographers, sculptors, and even scratch board artists were part of the featured field for this year's SEWE events. Work was displayed in a number of venues around town including local galleries, the Mills House Hotel, and the Belmont Charleston Place Hotel, where artwork spilled out of a main ballroom down a massive hallway and into various side rooms. SEWE caters to all level of art lover from those who love to look, to those who purchase prints, to patrons looking to obtain original pieces. There was even a treat for those who love to watch the art being created in the form of two Quick Draw events where artists were tasked with creating a completed piece of work in a single hour while SEWE guests looked on.


For those who are more passionate about feathers and fur than brush strokes, there was also plenty to see. Busch Wildlife presented audiences with variety of wildlife from rattlesnakes, to foxes, to a crane name Frazier. Get it? Frazier Crane. They brought out a number of different species and spoke about each individual to the delight of the crowds at the Charleston Music Hall.


The Center for the Birds of Prey was another hit this year with a tent full of feathered friends and their popular flight demonstrations which feature owls, raptors, hawks, and even the occasional vulture. Skilled trainers let the birds take flight before the crowd's eyes in Marion Square each day of the exposition. Every once in a while, a bird takes an extended flap around the downtown area before coming back to Marion Square. The trainers have a saying that goes along with these events. It is "Keep Calm and Get the Telemetry". The telemetry is able to locate the birds via a tracking device on their feet. This year, as in a few years past, a bird did take an extended trip around the downtown area, but made his way safely back to the trainers in the square. Who can blame the bird? Downtown Charleston by air is a lovely sight.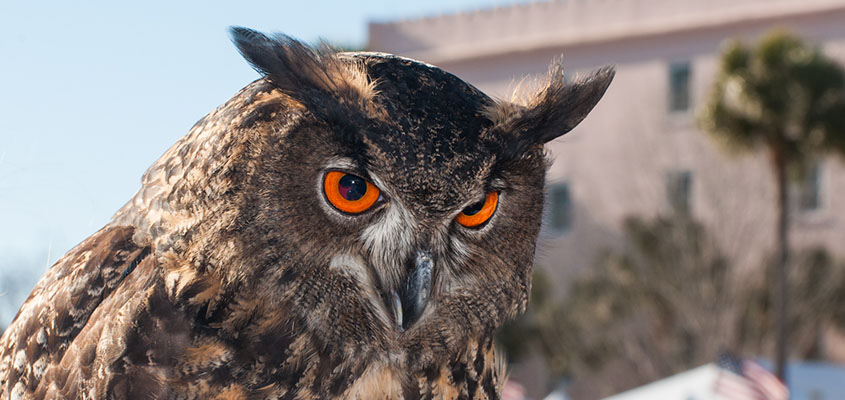 SEWE also boasted a variety of vendor booths, cast net, fly fishing, and retriever demonstrations, decoy auctions, chef demos, and a Living with Wolves program featuring Jim and Jamie Dutcher who spent six years living with a pack of wolves in Idaho. After all, how many times in your life do you get to hear from people who lived in the wild with wolves for six years? I'm guessing there isn't a whole lot of opportunity for most of us in that category.


If you are troubled because you missed this year's wildlife expo, there are two great reasons to take heart! The first is that, God willing, the Southeastern Wildlife Expo will return next year. It is always the week of Valentine's Day, so you can make your preparations to pencil it into your calendar now. The second reason to cheer up is that many of the vendors and companies featured in SEWE operate throughout the year, and quite a few of them are right here in Charleston.

For those who are eager to see the birds take flight, the Center for Birds of Prey will reopen to guests in March of 2015. They will offer tours of their Awendaw facility and flight demonstrations onsite. Those who love the water should sign up for a kayak tour with Coastal Expeditions.. Their daily tour of Shem Creek is one of my favorites, and guests reading this blog are eligible for a discount when they enter the code "traveling" at checkout. For folks looking for an artistic fix, head on out to the French Quarter Art galleries in downtown Charleston to take in the work of a number of talented artists focusing on Lowcountry landscape and wildlife subject matter. Whatever your plan, I hope you have a wild week in the best sort of way!
Audra Gibson is a Christian, photographer, surfer, and a lover of teriyaki steak bites. She enjoys live music, doesn't like to be cold, and she's a bit of a cheese snob. Traveling Ink was her little brain child and she's very happy that you're here. She'd be oh so happy to recommend her favorite tours and attractions in town, help you with a team building event, or organize a day (or week) of fun for you and your group.
Website: www.audragibson.com