ISLAND OVERVIEW
Bald Head Island is a residential community and resort located approximately two miles off the coast of North Carolina. Approximately 10,000 of the 12,000 acres are protected undeveloped land and the eastern tip of the island forms the Cape Fear Point. The developed portion of the island includes an array of private homes and rental properties, two clubs, a handful of restaurants, marinas, golf, swimming, tennis, sailing, conservancy education, and other activities.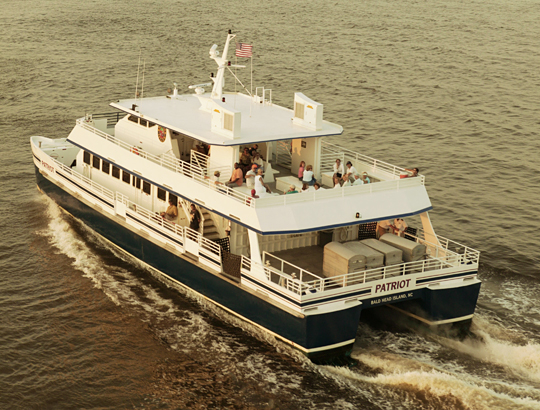 Ferry transport from Deep Point Marina to Bald Head Island.
TRANSPORTATION
Bald Head Island is accesible from the mainland by private boat or a 20 minute public passenger ferry ride from Deep Point Marina located at 1301 Ferry Road in Southport, NC. Ferry trips run hourly from 8:00 a.m. until 8:00 p.m. with some extended hours during the season. Patrons should plan on arriving approximately 30 minutes prior to whichever ferry time they plan on taking. Click here for full information on Bald Head Island Ferry times, packing recommendations, parking, and ticket pricing. Once guests arrive on Bald Head Island, the island tram can take them to their home. Ferry tickets are purchased on a first come, first served basis, but tram reservations can be made by calling 910-457-5003.
While on the island, guests will not see the vehicles they are accustomed to. One of the unique features of Bald Head is that cars are left behind. Folks on the island get around on golf carts, bicycles, and by walking.
One of the oceanfront rental homes available through Bald Head Island Limited.
ACCOMODATIONS
There are hotels located on the mainland of Southport, NC, but those wishing to stay on Bald Head Island itself will want to find themselves a nice rental. While there are homes listed on Vacation Rentals By Owner and a few property management companies on the island, Bald Head Island Limited Property Management is the company Traveling Ink has experience with. If guests are looking for a full service experience and a high quality selection of homes, they need look no further than this company.
Bald Head Island Property Management provides a bevy of information for guests planning a trip to Bald Head from shopping and dining to golf and spa information as well as keeping an up to date blog on activities on the island. Their homes are professionaly inspected, maintained, and cleaned, and come complete with temporary membership to the Shoal's Club and Bald Head Island Club, wifi, and golf cart(s), as well as other amenities. Each home listing has pictures and a detailed description, including number of bedrooms, sleeping arrangements, and extras. They can be reached by calling 1-800-432-7368.
ACTIVITIES & RECREATION
The island offers a variety of recreation choices that will leave guests with too many choices if they are just staying for the weekend. Guests may choose to relax poolside, on the beach, or in the spa or venture out in nature for an Eco tour, surfing lesson, or sailing trip. Here are a few options to help guests be as active as they wish during their stay.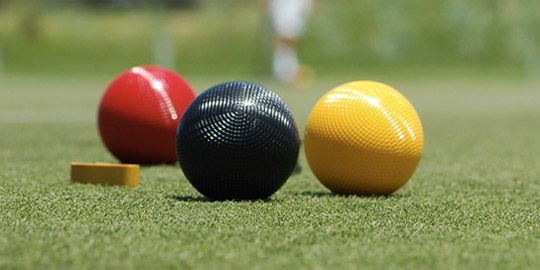 Croquet course at the Bald Head Island Club. Image courtesy of the Bald Head Island Club.
Island Clubs
• The Shoals Club, located near Cape Fear Point boasts a spacious clubhouse, pools, a fitness area, beach access, and fine dining.
• Bald Head Island Club features a recently renovated golf course. Maritime forest, sand dunes, and freshwater lagoons serve as the backdrop for this 18 hole course. In addition to golf, guests will find facilities for tennis, aquatics, fitness, and croquet
(make sure to bring your whites for croquet).
Rentals
• Riverside Adventure Company offers golf cart, beach chair, beach game, and bike rentals as well as BHI t-shirts, souvenirs, and beach apparel.
• Beach and Baby Equipment Rental offers guests full sized cribs, swings, baby monitors, high chairs, beach carts and tents for rent by the day or week.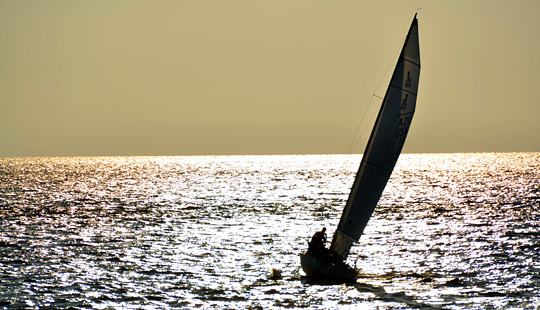 A sunset sail on Bald Head Island. Image courtesy of The Sail Shop.
Recreation and Preservation
• The Sail Shop offers guests a variety of outdoor options from sailing, to surfing lessons, to kayak tours and a vaiety of beach rentals. Learn to surf, sail, or kayak, or rent the right equipment if you are already a seasoned pro.
• Bald Head Island Conservancy puts wildlife and preservation front and center. Guests that visit the conservancy can participate in eco tours, kayak trips, turtle programs, and a variety of other education opportunities.
Bald Head Island Conservancy releases baby turtles on the beach. Image courtesy of BHIC.