I never need an excuse to head out to Magnolia Plantation and Gardens. It's one of my favorite places in the Lowcountry. But a couple of weeks ago, I had an extra reason to be out there. In a week or so more, I'll have yet another. You see the the azaleas are blooming, and sometime soon, they'll be at their peak. In my opinion, there is simply no better time to visit Magnolia Plantation. It has an awe-inspiring beauty in the spring.
Two weeks ago, the plantation hosted their annual Easter Egg Hunt. More than 5,000 eggs were stuffed with chocolate and prizes for children of all ages in the event's sixth year. There was no extra charge for the event. Anybody that entered that day with a general admission ticket to the gardens could participate....well, any child that is (though I did see a parent or two claim a Lindor Truffle post hunt). I took three of my godchildren, and each of them showed impressive egg hunt form.
Eggbert Hopps, Magnolia's bunny mascot (and assumed associate/friend of the Easter Bunny) was on site to take pictures. Magnolia paid the sitting fee for professional photographer, Christine Smith, to take shots of eager patrons, and prints were available for purchase. You're never too old to take a picture with a giant bunny right? I hope not.
In between egg hunts, we explored the gardens, the Peacock Cafe, the petting zoo, and even found time for a tour on the Nature Train. It was a full, but very enjoyable day. While I was there, I got excited about another aspect of the planation, the azaleas. Magnolia is lucky to have a variety of different species of flowers from magnolias (the plantation's namesake), to camellias, to hydrangeas, and more. The blooming seasons rotate so there is always something blooming. In the spring, my favorite blooms can be seen throughout the plantation. It looks as though someone has painted the gardens with a shower of pink blossoms when the azaleas are at the apex of their blooming season.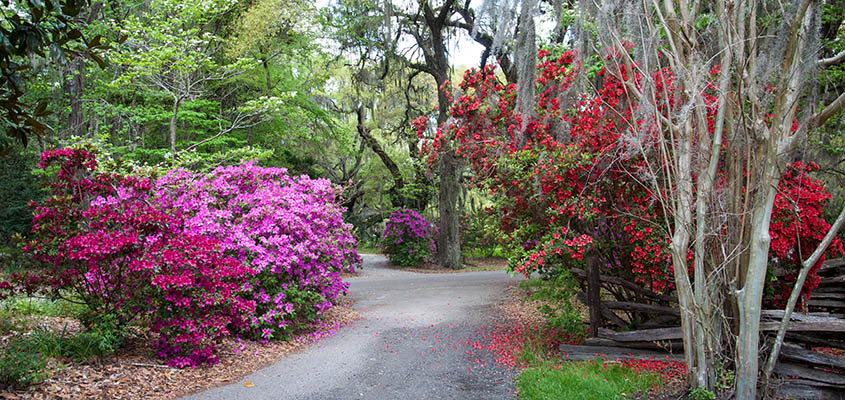 Magnolia is a Romantic Style Garden. The style was designed to help the ordinary man forget the drudgery of a dreary work day. Magnolia is meant to distract its visitors from the normalcy of every day life and envelope them in the wonder of the beautiful gardens. That's one of the reasons the property is one of my favorite places to be. It's an easy place to get lost in a good way.
May through February, discount coupons for Magnolia Gardens are available on the Traveling Ink website here. Whenever you are able to get there, I hope you have a chance to forget the ordinary, and get lost in one of America's most beautiful gardens.
Audra Gibson is a Christian, photographer, surfer, and a lover of teriyaki steak bites. She enjoys live music, doesn't like to be cold, and she's a bit of a cheese snob. Traveling Ink was her little brain child and she's very happy that you're here. She'd be oh so happy to recommend her favorite tours and attractions in town, help you with a team building event, or organize a day (or week) of fun for you and your group.
Website: www.audragibson.com